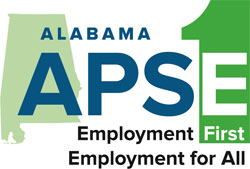 WHAT:    The AL-APSE Conference an annual event, intended to disseminate a variety of information to professionals working in the disability arena, as well as to individuals with disabilities and their families.
                    The conference will begin with an awards luncheon and hold sessions for participants to attend with objectives in becoming informed on support and success on employment, as well as community and independent living. Participants will receive a Continuing Education Credit if they attend the conference and sessions.
WHEN:     Wednesday afternoon – Friday noon, July 10-12 
WHERE:   Renaissance Montgomery Hotel & Spa, 201 Tallapoosa St., Montgomery, AL 36104 
WHO:       The AL-APSE, the Network on Employment, is a chapter of APSE and strives to improve and expand integrated employment opportunities, services, and outcomes for persons with disabilities through supported employment. To learn more about supported employment, please visit the Alabama Department of Mental Health's page.
 Press Information:
Contacts: Malissa Valdes-Hubert 334-202-1910; Byron White, 334-353-7713
Press should contact ADMH staff for interviews.