Logo [2023]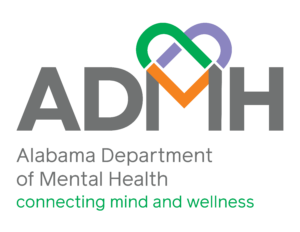 The Alabama Department of Mental Health has a new logo, slogan, and brand elements, representing our service to individuals with mental illness, developmental disabilities, and substance use disorder.
When using our logo, please follow our branding guidelines to respect the integrity of the image. After many years of solely using the State of Alabama Department seal, the department will also use this logo in branding and identification.
The Brand Narrative explains more about why and how this logo represents our department and partners.
Please email if you need our logo in another format or an alternate color scheme.
News Center
ADMH news releases and the latest media articles on the department and mental health issues around the state can be found in our News Center. The News Center also features publications, videos and other resource materials developed by the Office of Public Information.
Speakers Bureau
The Office of Public Information maintains the department's Speakers Bureau. Volunteer professionals and advocates are available to visit your club, organization, school, church group, etc., to speak about a full range of topics related to mental illnesses, developmental disabilities, or substance use disorders. Contact us for more information or at least two weeks in advance of your requested date to arrange a speaker.
for Providers, Partners & Advocacy Organizations
---
Our office is available to advise groups in developing both educational and promotional materials.
Public Relations Tool Kit
The Public Relations Tool Kit was created to help develop your own public relations plan for your organization. Contact Public Information for a copy of the Tool Kit, which may be emailed upon request.
Available Resources
ADMH has a host of educational resources (DVDs, brochures, PSAs, etc.) available for mental health system partners, community groups, students, and the general public. Please contact us at 334-242-3417 for more information and to request materials.