Montgomery, Ala. –Since 2005, the Alabama Department of Mental Health (ADMH) has hosted the Capitol Showcase, a consumer art show at Alabama's State Capitol, in the Old Supreme Court Library. We welcome you to visit and view the art of the individuals with mental illnesses, developmental disabilities, substance use disorders, and co-occurring disorders, who receive services from ADMH and local providers.
With each piece of art, a short narrative is displayed, along with heartfelt information about the life of the artist. Each piece describes how art is an integral part of their mental health and recovery. "Art is inherently therapeutic. It creates a space for people to process feelings and experiences in a very personal expression of self," said Commissioner Kim Boswell, ADMH.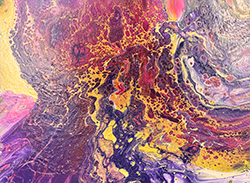 "We invite all Alabamians to experience the art and learn more about the benefits of mental wellness through this exhibit," continued Boswell. The art will be on display in the Old Supreme Court Library in the State Capitol. A reception will be hosted on May 26 for the artists and supporters.
###
Celebrating the Power of Art – The 17th ADMH Capitol Showcase