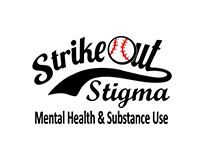 MONTGOMERY, Ala. – Every year, millions of people in the United States are impacted by mental illness. Living with a mental illness can make it difficult to find a balance in daily life and maintain recovery; and stigma can exacerbate symptoms and lower the probability of seeking therapy.
To offer mental health resources and share new information and locations, the Alabama Department of Mental Health, community providers, and the Montgomery Biscuits will host the annual Strike Out Stigma Night on Friday, May 5th  at 6:35 p.m. At the Strike Out Stigma game, discover more about mental health help in your community, while increasing your awareness about acceptance, and recovery.
Strike Out Stigma Providers and Partners:
Alabama Department of Veteran Affairs
Carastar Health
Alabama Council on Developmental Disabilities
NAMI Alabama
Wings Across Alabama
Council on Substance Abuse
Recovery Organization of Support Specialists (ROSS)
Mental Health America – Montgomery
Bradford Health Services
Montgomery Vet Center
Purchase tickets here for the May 5th Strike Out Stigma game. For more information, contact ADMH Public Information at publicinformation.dmh@mh.alabama.gov, 334-242-3417.
Strike Out Stigma Baseball Night – Ending the Stigma