Montgomery, Ala. – Stephen (Steve) Hamerdinger, Director, Office of Deaf Services (ODS), Division of Mental Health and Substance Abuse Services of the Alabama Department of Mental Health (ADMH) was announced recently as the recipient of the Boyce R. Williams Award, the highest award presented by the American Deafness and Rehabilitation Association (ADARA). The award is given to an individual in recognition of a lifetime of exemplary contributions that lead to improvement in the lives of deaf people, in the rehabilitation and behavioral health arenas. The annual award is named after Dr. Boyce R. Williams, who dedicated his career in government to advancing specialized programs and services for deaf and hard of hearing people.
"To receive an award named after Boyce Williams is incredible and humbling. Dr. Williams was one of the most influential deaf men in the history of the United States," Hamerdinger noted. "He isn't well known outside of human services, but almost every major advance in social services to deaf people can be traced directly to some initiative he either started or funded."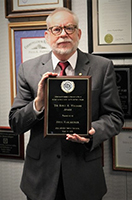 In 2015, Hamerdinger also received the Frederick C. Schreiber Award, which recognizes Dr. Fred Schreiber, the first Executive Director of the National Association of the Deaf, in recognition of his enduring commitment to ADARA. This award is given to an individual for outstanding contributions to ADARA.
Hamerdinger added he's never dreamed of receiving these two honors years apart, as only one person had previously been awarded both the Schreiber Award and the Williams Award, Dr. William McCrone. "When ADARA presented me with the Schreiber award, I was very grateful. Never did I dream they would also give me the Williams award some years later– it just doesn't happen," Hamerdinger explained.
Hamerdinger has been at the helm of ODS, serving the Alabama Department of Mental Health (ADMH) for over 18 years. Nationally and internationally renowned, ODS serves 300 individuals who are deaf and more than 1,500 hard of hearing individuals with severe and persistent mental illnesses and trains hundreds of people in deaf mental health care annually.
Hamerdinger has played a pivotal role in the deaf mental healthcare community for nearly 30 years. Prior to his appointment at ADMH, he was the Director of the Office of Deaf and Linguistic Support Services at the Missouri Department of Mental Health for ten years. His career has expanded into owning and operating a mental health consulting firm that provides consultation and training on mental health and deafness. Hamerdinger's commitment to supporting deaf services reminds everyone that there are no boundaries to what one can achieve.
"I grew up hearing statements such as, "You are deaf, you will never amount to anything. I would like to think I have proven those early distracters wrong," Hamerdinger continued. His motivation to support the deaf community comes from recognizing the importance of mental health care driven by deaf people.
"For us, By us. Nothing about us, without us," noted Hamerdinger. "As a deaf person who also lives with mental illness, this work is very real to me. I have been lucky and blessed in life. But far too many deaf people have not had the same opportunities I have had and have struggled with challenges far worse than mine. I feel that Providence called me to this work."
He noted that as he enters the late twilight of his career, his goal now is to effectively transition the program to a new generation of leadership, so the work thus far does not diminish.
"I'm grateful to Commissioner Kimberly Boswell and Associate Commissioner Dr. Tammie McCurry, for their support of developing a continuum of care for deaf people – including establishing a new deaf unit in our hospitals that can become the hub of crisis care, where deaf people can have access to American Sign Language fluent clinical care," he explained.
"This path for getting deaf services to where it should be has long been a dream of mine, and it is exciting to see the possibilities are there. I want the program to continue to build on those possibilities and aim for even greater things in the future."
###
ADMH Staff Member Recipient of Boyce Williams Award