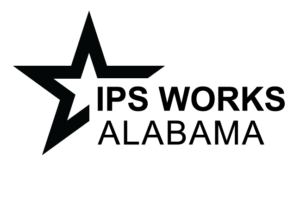 Montgomery, Ala. – The Alabama Department of Mental Health (ADMH), in partnership with the Alabama Department of Rehabilitation Services (ADRS) and community mental health centers are proud to share successes of Individual Placement and Support (IPS) – Supported Employment Program, with a series of testimonial videos of clients and employers and offer information about this important service.
IPS is an evidence-based practice that increases successful employment outcomes for individuals with serious mental illness and people with co-occurring mental illness and substance use disorders. Individuals have the best chance of success when their recovery process is supported by neighbors, employers, and service organizations.  People receiving IPS -Supported Employment are more than twice as likely to gain competitive employment than individuals who receive [traditional employment] services1. Recovery benefits everyone including citizens, employers, and the economy.
Since the inception of IPS services in Alabama in 2015, over 263 of Alabama's businesses have played a vital role in the success of individuals receiving employment. The second IPS video, showcasing an employer, The Neighborhood Grill, offers a look at the mutually beneficial relationship both employer and client enjoy. The video can be viewed here, on the ADMH YouTube channel.
"Good, solid employees are extremely important in this business… They [the IPS team] have brought in some really fantastic employees… and the benefits of having the IPS program employees that we have here has been phenomenal, not only just for us, the employers, or their fellow employees, but for our customers as well." said Jason Lee, Chef, Neighborhood Grill.
As an employer who works with an IPS team from the local mental health authority, there are many immediate benefits related to human resources. At no cost, participating employers have the opportunity to:
Gain immediate access to prescreened job applicants with skills and qualifications matched to employers' needs,
Obtain additional support from the IPS Team such as on-the-job coaching for employees,
Qualify for tax savings through the Work Opportunity Tax Credit
IPS Teams are located in three areas of our state. Participating providers include the following:
To learn more about the ADMH IPS-SE program, please visit https://mh.alabama.gov/individual-placement-and-support/ or contact Denise Bern, IPS Trainer and Coordinator at 334-353-0006 or denise.bern@mh.alabama.gov. To be connected in your area, please contact one of the three community mental health centers offering the program.
To learn more about the IPS, visit the IPS Employment Center at https://ipsworks.org/
To learn more about Employment statewide, visit AlabamaWorks! at https://alabamaworks.com
###
1 Reference: Brinchman, et al.  A meta-regression of the impact of policy on the efficacy of individual placement and support.  (2019).
Individual Placement and Support: Benefitting Employers and Clients