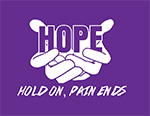 Montgomery, Ala. – The Alabama Department of Mental Health (ADMH) is proud to facilitate the Overdose Data to Action (OD2A) initiative, a three-year Centers for Disease Control (CDC) funding opportunity. This grant will afford Alabama the opportunity to strengthen and expand its statewide opioid prevention efforts. The initiative offers enhanced opportunities with the Alabama Department of Public Health and activities will include deepening coalition networks and an inspired statewide media campaign – H.O.P.E.: Hold On, Pain Ends.
The H.O.P.E. campaign is designed to reach audiences with messages of prevention, treatment and recovery. The campaign will provide resources and information to prevent opioid misuse and overdose to those in need. In coordination with ADPH, the departments will be able to identify and increase access to substance abuse treatment services in communities where drug addiction may be prevalent.
"Drug overdose deaths continue to be on the rise, particularly during the COVID-19 pandemic. Now more than ever we need an expansive response plan that will promote appropriate and accessible services for those in need," said ADMH Director of Prevention Services, Beverly Johnson. "Through this campaign, we will discuss opioid use disorder and take a comprehensive look at efforts to combat the epidemic in our communities," she continued.
"Our Offices of Substance Abuse Prevention and Treatment play a crucial role in decreasing opioid overdoses and related harms, while highlighting that recovery from substance use disorders is possible. This campaign shows the vital role our local providers and peer support specialists play in their efforts to link people to effective treatment resources," said Commissioner Lynn Beshear, ADMH.
Four prevention providers were selected regionally, representing the composition of the  substance use planning regions, through a Request for Proposal process. Each provider has a host of local stakeholders to assist with its local prevention efforts, to medical professionals.
Please contact local providers for information on direct services and information. Learn more about the campaign at https://mh.alabama.gov/hold-on-pain-ends/.
About Us: The Alabama Department of Mental Health serves more than 200,000 Alabama citizens with mental illnesses, intellectual disabilities, and substance use disorders. The department strives to Serve, Empower, and offer support to create awareness while promoting the health and well-being of Alabamians. Visit www.mh.alabama.gov for more information.
New Campaign Aims Expand Opioid Prevention