Direct Support Professional Recognition Week
September 13-17
Celebrating the Hearts and Souls of Those that Give Greatly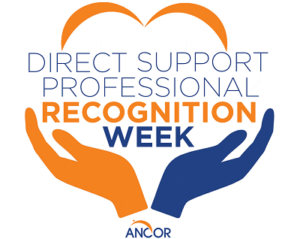 MONTGOMERY, Ala. – The Alabama Department of Mental Health is recognizing the important role direct support professionals (DSP) play in supporting individuals with intellectual, developmental, and physical disabilities, by highlighting September 13-17, 2021, as Direct Support Professional Recognition Week. The annual celebration provides an opportunity to say "thank you" to the direct support workforce that serves more than 6,100 Alabamians.
To support and acknowledge Alabama DSPs and the often unsung work of these dedicated professionals, the Alabama Department of Mental Health will share stories, information, and resources on social media, to raise awareness about the role and importance of DSPs.
Danielle Smith, a direct support professional at the Centers for the Developmentally Disabled in Decatur said, "A lot of our clients do not have families of their own and we become family to them. For those that do have family, we are able to provide comfort knowing that their loved one is being cared for and loved. I always knew that I wanted to care for others. I took care of my mother after she got sick and seeing the joy that it brought her, and to my father; it meant the world to me."
"My favorite thing about being a DSP are the breakthrough moments that we get to have with our clients, especially when some of our nonverbal clients build that trust with us and are able to laugh with us – it makes me feel good to make others feel good," Smith continued.
The unfailing dedication of a direct support professional doesn't go unnoticed, as their work shows devotion to ensuring the quality of life for individuals they serve. At WellStone in Huntsville, nearly 45 direct support professionals are employed as mental health techs, behavioral aides, and residential aides. Some of their daily responsibilities may include teaching clients coping skills, providing instruction, guidance, and encouragement, and preparing nutritious meals with them.
"Their commitment, compassion, and unique abilities are why we continue to grow and increase the number of recurring clients each year.," explained Jeremy Blair, Executive Director, WellStone. "Our DSPs show up every day to enhance the lives of others and ensure that our clients are receiving the best care and treatment possible."
Blair added, "We are very fortunate to have a team that radiates the dedication necessary to bring hope and perseverance to individuals who need it most in their recovery journeys."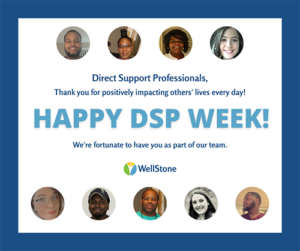 To learn more about the vital work performed by DSPs and how to receive services for individuals in need of care, visit www.mh.alabama.gov.
###
2021 Direct Support Professional Recognition Week