Montgomery, Ala. – National Prevention Week is celebrated May 9-15, 2021, to increase public awareness and engagements surrounding mental health and/or substance use disorders. The Alabama Department of Mental Health (ADMH), Office of Prevention is proud to partner with the Substance Abuse and Mental Health Services Administration (SAMHSA) to offer learning opportunities to promote this important week.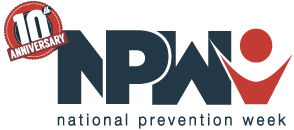 National Prevention Week is the perfect time to invest in prevention. Community leaders and prevention specialists are standing up to prevent misuse of illegal drugs, opioids, marijuana, tobacco, alcohol, and prevent suicide and mental illness. National Prevention Week provides a chance for schools, communities, and prevention professional to re-focus on prevention efforts.
The three primary goals of National Prevention Week are to:
Involve communities in raising awareness about behavioral health issues and implementing prevention strategies and showcasing effectiveness of evidence-based prevention programs.
Foster partnerships and collaboration with federal agencies and national organizations dedicated to behavioral and public health; and
Promote and disseminate quality behavioral health resources and publications.
Throughout National Prevention Week, ADMH's Office of Prevention is offering virtual opportunities to participate. The daily themes will focus on substance use and mental health disorders. In addition, important fact sheets and webinars will be shared with staff and the public.
The 2021 daily themes are:
We encourage young adults to participate in the #YouthLeadingPrevention Video Challenge by identifying youth leaders in programs and encouraging them to create and post videos to their social media accounts (Instagram, Facebook, Twitter, YouTube, etc.) about prevention efforts. Be sure to use the hashtag #YouthLeadingPrevention and follow these steps:
To learn more about National Prevention Week, visit the ADMH Facebook page and join the #PreventionHappensHere challenge today.
###
National Prevention Week 2021